The General Carbide Plant Tour & 15th Annual WAI Ohio Valley Chapter Golf Tournament
WAI Chapter Event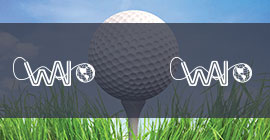 Date:
October 18, 2018
08:00 AM
Venue: The Madison Club | City: Yukon, United States

General Information:  Following last year's well received combined plant tour and golf outing, the Ohio Valley Chapter's Board of Directors has planned a flexible full day of education, networking and golf. They have also changed the location to ensure they serve the broader territory of the Chapter.
Fees: $130 includes tour, seminar, driving range, lunch, dinner and golf.  For those unable to participate in the full day, the seminar fee is $50.
Sponsorships are available by contacting event organizer Dave Rascati at This email address is being protected from spambots. You need JavaScript enabled to view it., tel. 260.750.5736
Schedule:
8:00 a.m. – 8:30 a.m.  Badge Pick Up
8:30 a.m. - 9:30 a.m. Plant Tour: General Carbide Corp., 1151 Garden St. Greensburg, PA  15601-6417
Participants will tour General Carbide's operation to see firsthand the production of the more than 50 grades of tungsten carbide tooling for a wide range of industrial wear and metal forming applications. Participants will gain an understanding of how they shape and sinter metallurgical powders into tungsten carbide parts.
Note: The number of tour participants is limited, so early registration is encouraged.  All participants must be approved by General Carbide.
9:30 a.m. - 10:00 a.m. Travel to The Madison Club: venue of Safety Seminar and golf outing, The Madison Club, 519 Yukon Rd., Yukon, PA  15698, Telephone: 724.446.4000
10:00 a.m. - 11:00 a.m. Safety Seminar:
Speaker: Greg Sipos, Indiana University of Pennsylvania, HHS program.  Mr. Gregory A. Sipos, CSP, has been a safety consultant with the IUP/OSHA Consultation Program since August 2001. 
He received his Bachelor of Science degree in Safety Sciences from IUP in 1991. He currently holds membership with the American Society of Safety Engineers, Board of Certified Safety Professionals, and the National Safety Council. From 1994 through 2001, Mr. Sipos was the safety and health manager for Heater Utilities, Inc., North Carolina's largest private water/wastewater treatment company. Mr. Sipos was responsible for maintaining compliance with all OSHA and Department of Transportation regulations, facility audits, and employee compliance training and education.
Prior to his position at Heater Utilities, Mr. Sipos worked for various private safety and health consultation services. He provided industrial hygiene sampling and exposure monitoring at various industries, including USX Steel, LTV Steel, Clairton Coke Works, and NASA's Wallops Island Space Flight Facility.
https://www.iup.edu/safetysciences/. 
This seminar may have approved Continuing Education Units.
11:00-11:45 a.m. Range Open
12:00p.m. - 5:00 p.m. Lunch & Golf: Golfers will enjoy a box lunch provided by Rainbow Rubber & Plastics before teeing off on one of the most talked about golf courses in the Pittsburgh area.
5:30 p.m. -  6:30 p.m. Steak Dinner & Awards: Presiding: Rob Fulop, President, WAI Ohio Valley Chapter & President, Wire Lab Company
Overnight Options:  There is a Hampton Inn in North Huntingdon-Irwin, PA as well as a Fairfield Inn in New Stanton, PA that are both less than 10 miles from The Madison Club.
Email
This email address is being protected from spambots. You need JavaScript enabled to view it.
Address
519 Yukon Rd, Yukon
PA 15679, United States

All Dates
October 18, 2018

08:00 AM