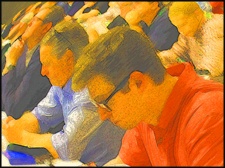 REGIONAL EDITION
Dates: October 8 & 9, 2019
Location: Grand Wayne Convention Center, Fort Wayne, IN, USA
Introducing WAI's regional edition of its most popular workshop: Fundamentals of Wire Manufacturing.
New to the industry? Need to come up to speed in a hurry? Or are you unclear about the many wire processing terms you've heard?
Yes? Then this concentrated introductory course is for you. It provides a solid grounding in the essentials of wire and cable manufacturing presented by experts in the field. It's WAI's most popular training program and refresher course for new hires, sales teams, and operations personnel.
The workshop runs a full day on October 8 and October 9 features a plant tour to Ft. Wayne Metals. 
Course Topics:
Mechanics of wiredrawing
Drawing dies
Wiredrawing lubricants
Wire breaks & surface damage
Stranding cable
Cleaning & coating of rod & wire
Extrusion
Basics of electrical testing
Ferrous heat treatment
Marking & printing
Manufacturing problem solving
Testing & properties
Ferrous metallurgy
Featuring:
10 instructors
Ferrous, nonferrous/electrical & general tracks
Course materials and lunch

Value -




$245 WAI Members
$345 Nonmembers

Plant tours to Ft. Wayne Metals and SDI LaFarga
Value -

Event Schedule:
October 8, 2019
8:00 a.m. Registration
8:30 a.m. Combined Program
Noon Luncheon
1:00 p.m. Ferrous Program
1:00 p.m. Nonferrous Program 
5:00 p.m. Adjourn
October 9, 2019
8:30 a.m. - Tour Ft. Wayne Metals
10:15 a.m. - Tour SDI LaFarga
Details:
This email address is being protected from spambots. You need JavaScript enabled to view it.
Organizer
The Wire Association International, Inc., founded in 1930, is a worldwide technical society for wire and cable industry professionals dedicated to the promotion, collection, and dissemination of technical, manufacturing, and general business information and trends in the industry. Throughout the year WAI organizes events such as Interwire and the WAI Operations Summit & Wire Expo trade shows, an online Industry Search, and an annual International Technical Conference. Its publications and technical products include Wire Journal International (WJI), the annual WJI Reference Guide, HardWIRED educational newsletter and videos, as well as a host of technical handbooks, webinars, and DVDs.