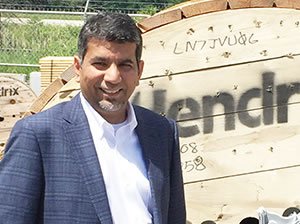 Ashish Munot
WAI Member since 2016
"The WAI Operations Summit and Expo peaked my interest with its various operations-based conferences. WAI provides an excellent knowledge-sharing platform that brings together industry leaders and innovators." - Ashish Munot
Q: What does your company do? A: Hendrix has been an inventor, innovator and leading manufacturer of spacer cable systems for over 65 years. Headquartered in Milford, New Hampshire, we offer complete circuit design, kitting, installation and service solutions. We have spacer cable installed in all 50 states and all seven continents (yes, even Antarctica) of the world.
Q: What is your role there? A: I am the director of engineering and operations, overseeing overall performance of manufacturing, supply chain, planning and distribution along with process, design and new product innovation.
Q: What do you like best about your position? A: I'm in a fortunate position where I get to enjoy almost every aspect of the business. For me, that means daily interaction with operations, logistics, procurement, engineering and sales, all of which provide unique learning opportunities.
Q: How has your industry most changed? A: In the past decade, storm hardening, grid resiliency and reliability have become an important focus for the utilities. Once known for niche applications, aerial spacer cable systems have gained recognition in the utility industry by out-performing other available options.
Q: How does your company remain competitive? A: Hendrix has maintained its leadership position with continuous product innovation. We combine new age apps and technology with extensive and intimate product knowledge.