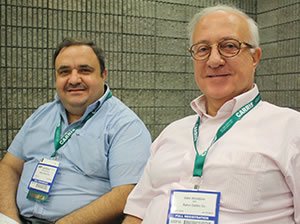 Orabi & Atmadjian
WAI Member since 2016
"[We want] to represent our company and meet professionals, experts and pioneers from WAI's diverse community who will help us continue to develop and achieve our goals." - Bahra Cables
Q: What does your company do? A: Bahra Cables, Co., founded in 2008 and a leading company in Saudi Arabia, today has 1,400 employees. We manufacture wires, including LV, MV and HV power cables, PVC conduits, busways and dry transformers.
Q: What is your role there? Atmandjian: I am COO. Orabi: I am production manager.
Q: What do you like best about your position? Atmandjian: I enjoy having to use my initiative to implement and improve systems to make our company bigger. We have grown sixfold so far, and our goal is to become the leading cable company in the Middle East. Orabi: I feel that I am very challenged at reaching my full potential in raising, diversifying and expanding production. We must use our high-technology equipment to cost-effectively make the best quality wire and cable.
Q: How does your company remain competitive? A: We have a very lean vertical management structure, and ideas and information flow freely between movers and shakers in our rapidly growing enterprise. We use analytics to support strategy and greater collaboration between managers and academics, and we consider the needs of all stakeholders, not just the shareholders, and always take into account the local context. Many ideas from our team members have led to innovative solutions and services that we provide to our many happy customers in Saudia Araba and the countries of the Gulf Cooperating Council (GCC).