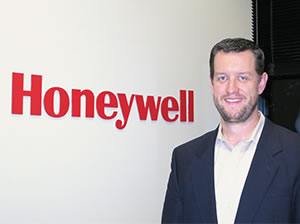 Brian Meachum
WAI Member since 2016
"I came back to WAI to reconnect with the wide network of wire professionals. It helps me stay in touch with how the industry at large is working to solve the challenges in the market today. Having the Midwest Chapter golf tournament in driving distance doesn't hurt either." - Brian Meachum
Q: What does your company do? A: We make wire. I don't have enough space here to tell you what Honeywell at large does, so I'll keep it simple: Honeywell Cable (formerly Genesis Cable Systems) is a manufacturer of low-voltage signal and data transmission cabling.
Q: What is your role there? A: I get all the jobs the GM doesn't want to get his hands dirty doing. I lead the functions of marketing, product development, pricing, SIOP and engineering.
Q: What do you like best about your position? A: I have been with this business for 14 years, and worn many hats from engineering through operations. In my current role, I get to pick up each of those hats depending on the challenge facing us at the time. The best part, however, is getting into the field and getting to experience with our customers the challenges they struggle with every day, and to help them bring solutions to market that solve those problems.
Q: How has your industry most changed? A: Wireless is a fad, wireless is a fad. That is my daily affirmation. The biggest change, I think, has been the consolidation of purpose-built wire designs to common standard products, like Cat. 5e.
Q: How does your company remain competitive? A: As the consolidation mentioned above continues, the opportunity for a company to differentiate its wire products gets smaller and smaller. That said, we have been able to remain competitive by solving the daily challenges of our customers, with innovations like our WaveFlex jacketing and our new package design called REACT.