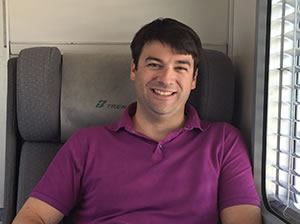 Brian Gordon
WAI Member since 2016
"I hope that I am able to build strong business relationships with the next generation in the industry." - Brian Gordon
Q: What does your company do? A: Micro-Tek is a manufacturer of fluoropolymer insulated wire and cable as well as ferrous and nonferrous flat wire products. We have drawing, stranding, insulating, cabling, jacketing, shielding, flattening and value added services such as forming, bobbin winding and cut/strip/tinning in-house.
Q: What is your role there? A: Working at our family owned business, I play some role in almost every aspect of the operations, from engineering to sales to purchasing to manufacturing. However, I did start out taking care of the dogs that we have and cleaning bobbins.
Q: What do you like best about your position? A: I like the variation in what needs to be addressed on a day to day basis, whether it be sourcing an exotic material, designing a product to meet new design requirements or working with manufacturing to improve quality and efficiency. As an engineer by education and training, I really enjoy designing and testing new products and processes.
Q: How does your company remain competitive? A: Micro-Tek is a small company but we have very diverse manufacturing capabilities. This allows us to have shorter lead times and lower minimum order sizes as we can keep an entire order in house. It also lets us try many one-off and custom products for our customers. We specialize in close tolerances and custom products.