WAI COVID-19 ONLINE RESOURCE CENTER
We've been through a lot together in 90 years. And we're here for you now.
Please Note:
The health and well-being of all our international wire and cable community remains our priority. The WAI Operations Summit & Wire Expo will not take place as scheduled on June 3-4, 2020. To help keep the industry connected during this uncertain period, we have created this online resource center page and will increase our social media presence. Thank you for your understanding and continued support. Be well. 
---
| | | |
| --- | --- | --- |
| | Click above to watch video. | |
---
Connect with The Wire Association International and Wire Journal International :
Follow us on social media for constant industry updates.
WAI LinkedIn WJI LinkedIn Facebook Twitter YouTube
---
  

WAI's Free COVID-19 Webinars:

If you missed parts of this timely series… catch up now to see how wire and cable companies are handling manufacturing throughout the global pandemic. Learn how day-to-day procedures have changed and define the "new normal."
---

---
Prevention Fact Sheet:

Download the handy WAI branded fact sheet with 7 COVID-19 prevention tips. Ideal for sharing with your employees via email, social media, or even print and hang up.
---
Free Useful External Tools:
Phone Conference Service:
Free Conference is a free conference calling service that offers unlimited free conference calling with high-quality, free features.
Visit Website
Remote Desktop App:
TeamViewer is a proprietary software application for remote control, desktop sharing, online meetings, web conferencing and file transfer between computers.
Visit Website
Online Team Collaboration:
Microsoft Teams is a unified communication and collaboration platform that combines persistent workplace chat, video meetings, file storage, and application integration.
Visit Website
Virtual Conference + Training:
Adobe Connect creates virtual business environments that let employees join meetings, virtual conferences and training from their homes.
Visit Website
Employee Wellness:
Headspace offers a variety of guided meditations and exercises for free to all businesses and their employees.
Visit Website
Video Courses + Training:
LinkedIn Learning will help you discover how to be productive and connected when working from home or other remote environments.
Visit Website
Do you have others tools that should make our list? Please let us know, as we are all in this together. 
---
Looking For More? 
Explore WAI's website for additional industry specific resources and get to know these WAI brands:
---

WAI OPERATIONS SUMMIT & WIRE EXPO 2020 IS CANCELLED.
MADISON, Connecticut, USA – April 8, 2020 – The Wire Association International (WAI), Inc. announces that its Board of Directors (BOD) has cancelled the WAI Operations Summit & Wire Expo 2020 due to the uncertain trajectory and effect of the COVID-19 pandemic. The event was originally scheduled for June 3-4, 2020, at the Mohegan Sun Resort Casino, Uncasville, Connecticut, USA.
On March 19, 2020, WAI announced the suspension of the event, pending further investigation of the availability of alternate dates and the viability of rescheduling later this year.
After full consideration, and recommendation by WAI's Exhibition Planning Committee, the BOD made the difficult but necessary decision to cancel the summit and expo. However, some elements of WAI's 90th Annual Convention, including the presentation of the WAI Mordica Memorial, Donnellan Memorial, and President's Awards, will take place in 2020, likely with a WAI Chapter event.
Commenting on the BOD decision, WAI President and Exhibition Planning Committee member Jan Sørige, said "I am confident in our decision. Our priority is the health and safety of WAI's community. As of today, we shift focus to Interwire 2021 in Atlanta. WAI's staff and committee members are fully engaged to ensure that Interwire is a success. We extend thanks to WAI's loyal exhibitor base, its sponsors, and speakers and look forward to a productive show in 2021."
Next year Interwire—the largest and longest running trade event for wire and cable in the Americas—will celebrate 40 years since its founding. It is scheduled for May 10-13, 2021, at the Georgia World Congress Center, Atlanta, Georgia, USA, where it originated in 1981. Look for updates at www.interwire21.com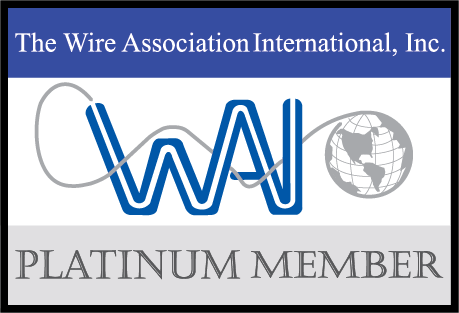 Platinum Membership
The Wire Association International (WAI), Inc. offers its Platinum Membership Program to recognize and reward organizations that actively support the Association by participating as exhibitors, advertisers, sponsors, or content providers for WAI-organized events, publications, and educational programs.
1. REWARD YOUR STAFF.
Appoint five (5) of your staff as members of WAI. Each will receive full WAI membership benefits for a year including: Access to free educational webinars and all archived webinars; Free download of 5,600 technical articles; WJI Reference Guide; Wire Journal International magazine; Discounts on WAI products, services, and events.
2. EXTEND YOUR BRAND.
Receive premier, elevated placement of your company listing on WAI's online Industry Search (a $250 value). Also be acknowledged as a Platinum Member at WAI trade shows.
3. STAR IN WJI.
Wire Journal International (WJI) offers Platinum Member companies an editorial opportunity. Each company can get a half-page story in an issue of WJI that will be headlined, "News from WAI Platinum Members." 
4. $AVE.
The standalone value of Item 1 is $650. Platinum Membership includes items 1, 2, and 3 for $595! 
Meet your peers. Achieve your goals. Join WAI today.
Platinum Membership Dues
• One year: $595.00
• Two years: $1,190.00
• Three years: $1,785.00
Questions: Contact WAI's Membership Department, This email address is being protected from spambots. You need JavaScript enabled to view it. or 203-453-2777
The Wire Journal International can now be delivered to your inbox with the
WJI
Digital Edition. Below is a preview on our November 2017 edition "Plant Operations: Maintenance". If you wish to receive the
Wire Journal International
printed and/or digital editions for free, please click on the button below to subscribe. WAI members have full access to digital back issues going back to December 2006 by logging in and navigating to the "MEMBERS" section of the menu.
Dates: May 13-15, 2025
Location: Georgia World Congress Center | Atlanta, Georgia, USA
Background
Introduced in 1981, Interwire is the largest and longest-running wire and cable marketplace in the Americas. Hosted biennially, Interwire is an international trade event that includes exhibiting companies, speakers, and visitors from more than 50 countries. When industry professionals look for new wire and cable technology, supplies, and equipment they choose Interwire, the benchmark for wire business in the Americas.
Information is exchanged at Interwire. Machinery is debuted, reviewed, and sold at Interwire. And the promise of international networking on the Americas' stage continues to excite visitors to this vital forum. The show crosses dozens of vertical industries including automotive, construction, aerospace, transportation, and communications, among others. Interwire is held in conjunction with WAI's Annual Convention.
Official Publication
Wire Journal International (WJI) is the leading magazine for the wire and cable industry. With twelve issues published per year, WJI never misses a month of coverage and is written for executives, engineers, technical and sales professionals, and purchasing agents engaged in the manufacture of ferrous and nonferrous wire and cable; electrical wire and cable; fiber optic cable; and formed and fabricated wire products. Coverage includes management, marketing and manufacturing methods and technical developments related to production of wire and cable products; industry news, trends and events; personnel appointments; and patent updates.
Exhibitors
Interwire is a machinery show. Exhibiting companies comprise suppliers to the industry and manufacturers of wire; cable; and fastener, formed and fabricated wire products. Historically, exhibiting companies have represented all sectors of metal and fiber.
Visitors
Interwire attracts visitors from throughout the world with a concentration from the Americas. These attendees, 90% of whom have purchasing influence, represent the hundreds of companies that plan for a wide range of capital expenditures in the ferrous, nonferrous, and electrical segments of the industry. Attendees come from numerous fields and several industries allied to wire and cable including:
automotive
manufacturing
environmental and reclamation
appliance
building
furnishings
housewares
communications
medical instrumentation
fasteners
electronics
energy
Speakers
Industry experts give technical and operational presentations throughout the conference. Roundtable and panel discussions; production solution demonstrations; courses and workshops led by industry luminaries are among the program highlights. WAI welcomes participation. See the Call for Papers information if you are interested in presenting at an upcoming event.
Sponsors
WAI offers a selection of sponsorship opportunities in support of Interwire that can help promote your organization.
This email address is being protected from spambots. You need JavaScript enabled to view it.
Organizer
The Wire Association International, Inc., founded in 1930, is a worldwide technical society for wire and cable industry professionals dedicated to the promotion, collection, and dissemination of technical, manufacturing, and general business information and trends in the industry. Throughout the year WAI organizes events such as Interwire and the WAI Operations Summit & Wire Expo trade shows, an online Industry Search, and annual International Technical Conference. Its publications and technical products include Wire Journal International (WJI), the annual WJI Reference Guide, HardWIRED educational newsletter and videos, as well as a host of technical handbooks, webinars, and DVDs.