The Wire Journal International can now be delivered to your inbox with the
WJI
Digital Edition. Below is a preview on our November 2017 edition "Plant Operations: Maintenance". If you wish to receive the
Wire Journal International
printed and/or digital editions for free, please click on the button below to subscribe. WAI members have full access to digital back issues going back to December 2006 by logging in and navigating to the "MEMBERS" section of the menu.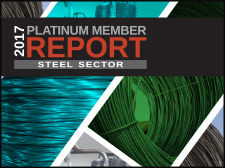 Platinum Membership
The Wire Association International (WAI), Inc. offers its Platinum Membership Program to recognize and reward organizations that actively support the Association by participating as exhibitors, advertisers, sponsors, or content providers for WAI-organized events, publications, and educational programs.
1. REWARD YOUR STAFF.
Appoint five (5) of your staff as members of WAI. Each will receive full WAI membership benefits for a year including: Access to free educational webinars and all archived webinars; Free download of 5,600 technical articles; WJI Reference Guide; Wire Journal International magazine; Discounts on WAI products, services, and events.
2. EXTEND YOUR BRAND.
Receive premier, elevated placement of your company listing on WAI's online Industry Search (a $250 value). Also be acknowledged as a Platinum Member at WAI trade shows.
3. ACCESS VIP INSIGHT.
Receive annual invitation-only presentations of market data in the form of an exclusive Platinum Member reception, a VIP roundtable discussion, webinar, or industry report.
4. $AVE.
The standalone value of Item 1 is $650. Platinum Membership includes items 1, 2, and 3 for $595!
Meet your peers. Achieve your goals. Join WAI today.
Dates: Convention: May 10-13, 2021 | Exhibits: May 11-13, 2021
Location: Georgia World Congress Center | Atlanta, Georgia, USA
Background
Introduced in 1981, Interwire is the largest and longest-running wire and cable marketplace in the Americas. Hosted biennially, Interwire is an international trade event that includes exhibiting companies, speakers, and visitors from more than 50 countries. When industry professionals look for new wire and cable technology, supplies, and equipment they choose Interwire, the benchmark for wire business in the Americas.
Information is exchanged at Interwire. Machinery is debuted, reviewed, and sold at Interwire. And the promise of international networking on the Americas' stage continues to excite visitors to this vital forum. The show crosses dozens of vertical industries including automotive, construction, aerospace, transportation, and communications, among others. Interwire is held in conjunction with WAI's Annual Convention.
Official Publication
Wire Journal International (WJI) is the leading magazine for the wire and cable industry. With twelve issues published per year, WJI never misses a month of coverage and is written for executives, engineers, technical and sales professionals, and purchasing agents engaged in the manufacture of ferrous and nonferrous wire and cable; electrical wire and cable; fiber optic cable; and formed and fabricated wire products. Coverage includes management, marketing and manufacturing methods and technical developments related to production of wire and cable products; industry news, trends and events; personnel appointments; and patent updates.
Exhibitors
Interwire is a machinery show. Exhibiting companies comprise suppliers to the industry and manufacturers of wire; cable; and fastener, formed and fabricated wire products. Historically, exhibiting companies have represented all sectors of metal and fiber.
 This email address is being protected from spambots. You need JavaScript enabled to view it. View Floor Plan
Visitors
Interwire attracts visitors from throughout the world with a concentration from the Americas. These attendees, 90% of whom have purchasing influence, represent the hundreds of companies that plan for a wide range of capital expenditures in the ferrous, nonferrous, and electrical segments of the industry. Attendees come from numerous fields and several industries allied to wire and cable including:
automotive
manufacturing
environmental and reclamation
appliance
building
furnishings
housewares
communications
medical instrumentation
fasteners
electronics
energy
Speakers
Industry experts give technical and operational presentations throughout the conference. Roundtable and panel discussions; production solution demonstrations; courses and workshops led by industry luminaries are among the program highlights. WAI welcomes participation. See the Call for Papers information if you are interested in presenting at an upcoming event.
Sponsors
WAI offers a selection of sponsorship opportunities in support of Interwire that can help promote your organization.
 This email address is being protected from spambots. You need JavaScript enabled to view it.
Organizer
The Wire Association International, Inc., founded in 1930, is a worldwide technical society for wire and cable industry professionals dedicated to the promotion, collection, and dissemination of technical, manufacturing, and general business information and trends in the industry. Throughout the year WAI organizes events such as Interwire and the WAI Operations Summit & Wire Expo trade shows, an online Industry Search, and annual International Technical Conference. Its publications and technical products include Wire Journal International (WJI), the annual WJI Reference Guide, HardWIRED educational newsletter and videos, as well as a host of technical handbooks, webinars, and DVDs.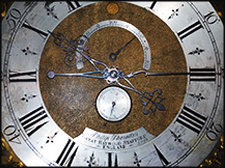 The clockwinding tradition originated when John Rigby and Sons, Ltd. of Manchester, England, presented the Wire Association with a 400-day grandfather clock at its Annual Convention in Pittsburgh, Pennsylvania, on October 20, 1948. The gesture, which represented a group of 32 companies from Great Britain, was made in appreciation of the support given by the U.S. wire industry to Great Britain during World War II.
Each year a representative from the U.K. makes the trip to the U.S. to participate in the annual ceremony that commemorates the friendship and communication between the two nations.
The clock resides in the lobby of the Wire Association International, Inc. headquarters in Madison, Connecticut. 
---
A history of the clock ~ at the time of presentation ~
The massive mahogany case standing about eight feet high was made about the year 1770. The brickwork ornamentation of the plinth and clusters of fluted columns to the head are noteworthy features, the latter being quite unusual. The Corinthian capitals and other metal ornamentation are picked out with gold. As the dial door is not constructed for frequent opening, it seems very probable that this case was originally made for a three month or longer period clock. To open this door the two pegs at each side are withdrawn and the door frame lifted down. There are no hinges. Although about 178 years old, the case is in very good condition and has been carefully restored and processed against woodworm. The movement and dial have been newly constructed by the writer in keeping with the requirements of the case. The movement (of the clock) is designed to run for 400 days without rewinding.
A small number of these year duration clocks were made in London in the early 18th century by the celebrated makers, Thomas Tompion and Daniel Quare, and there are also a few examples of provincial make and later date. The year- long case clock was a luxury demanding too much skill in construction ever to come into general use although the aesthetic and practical value of an "anniversary clock," as they could appropriately be called, are worthy of consideration. The older examples frequently required an 80 lb. weight to drive them. The maker of the present clock employed the general principles of the old craftsmen while introducing some of the facilities of later days such as Geo. Graham's dead beat escapement and Skefko ball-bearings on the heavily loaded barrel arbor. Using, as it does, a 40 lb. weight, the efficiency of this clock becomes about 13 times that of a common eight day long case clock. The falling of the weight about one eight thousandth part of an inch keeps the clock going one minute during which time the pendulum travels about 135 inches. Pinions of 12 leaves are used throughout the train and the total gearing ratio is 34,560 to 1. Shafter maintaining power is fitted which keeps the clock going while being wound and prevents the key being inserted until the maintaining power has been put into operation. Double click-work is fitted to the barrel for safety in winding. The pendulum is an "Invar" rod with lenticular bob provided with graduated rating nut for coarse adjustment, and a small shelf for small weights, for fine adjustment without stopping the pendulum. A degree scale is provided, the escaping arc being 1 degree each side of zero and the swing arc about 1 degree, 30 minutes. The delicacy of a clock of this kind is shown by the fact that the hour hand, as well as the minute and seconds, has to be balanced. Guides are fitted to the case to prevent the flat weight from twisting.
The lacquered brass and silvered dial is hand engraved and bears around the arch an ancient sundial motto reminding us that "Time can neither be kept nor destroyed," "Tenere non potes nec perdere." In the arch is a rotating sphere moon showing the phasing of the moon around which a hand points out the age of this luminary. The hour and minutes are indicated on the usual 12-hour circle, the seconds being given on a sunk seconds dial, below the center of the dial. The matted dial center is relieved by a segment of a circle on which are pointed out the number of days which have elapsed since the clock was wound. The hand pierced hands are of blue steel and the corner pieces are spandrels of brass, pierced in scroll work pattern, and finished to give a damaskeening effect.
1948—John Rigby Director, John Rigby & Sons Ltd.
1949—Reginald S. Brown Chief Metallurgist, Ryland Bros. Ltd.
1950—H. Richards Marshall Richards Ltd.
1951—Dr. Thomas Emmerson Director, GKN Ltd.
1952—D. Thirkell Cox Director, British Steel Wire Association
1953—Charles D. Gill Director, Spencer Wire Co. Ltd.
1954—C.P. Rigby Director, John Rigby & Sons Ltd.
1955—R.S. Bleckly & W.O. Copland Directors, Ryland Bros. Ltd.
1956—John M. Avison Director, Ramsden Camm & Co.
1957—Peter D. Gill Director, Spencer Wire Co.
1958—Harold W. Rigby Director, John Rigby & Sons Ltd.
1959—Douglas Gledhill Director, J.A. Binns Ltd.
1960—James F. Cowen Chief Engineer, BICC Ltd.
1961—C.F. Brereton Chief Metallurgist, RJN Ltd.
1962—S.W. Horton Director, The Firth Co. Ltd.
1963—Donald Stead Manager, Thos. Wood & Son
1964—Kenneth G. Hann Director, Somerset Wire Co.
1965—E.A. Shipley Technical Manager, British Ropes
1966—R.H.G. Askew Manager, Joseph Sykes Bros.
1967—Terence Cahill Director, Somerset Wire Ltd.
1968—Philip M. Rambaut Director, IISWM
1969—James Fouldes General Manager, Tinsley Wire
1970—John Siddall Director, Standard Wire Co.
1971—R.T.V. Hay Director, MRB Ltd.
1972—Reginald Hardy President, IISWM
1973—Raymond Ripley Chairman, Richard Hill Ltd.
1974—John Bolton Director, IISWM
1975—J.G. Wilson Chairman, GKN Rolled Bright Steel
1976—Michael Gledhill Director, J.A. Binns Ltd.
1977—G.S. Firth Director, Smith Wires Ltd.
1978—Frank Fox Chairman, Cleckheaton Wire Drawing Die
1979—Peter J. Rigby Chairman, Rigby Maryland Ltd.
1980—Roger Matzen Director, Hi-Draw Machinery Ltd.
1981—D.S.W. Lee Director, Arthur Lee & Sons Ltd.
1982—Rodney Hill Manager, Bridon Ltd.
1983—D. Newbould Director, Tinsley Wire Ind. Ltd.
1984—Peter Johnson Director, RJN Ltd.
1985—W. Murray Tomlinson Chairman, MRB Ltd.
1986—Angus McDonnell Director, Bridon Ltd.
1987—Nigel A. Charles Director, MRB Ltd.
1988—C.P. Rigby Chairman, Rigby Specialty Wire Ltd.
1989—Terence Cahill Director, Somerset Wire Ltd.
1990—George J. Dickens Director, John Shaw Ltd.
1991—Terence Cahill Director, WAI
1992—Darrell Fox Director, Foxton Wire Die Ltd.
1993—Dilwyn Scrivens Director, Tinsley Wire Ltd.
1994—Andrew G. Stacey Director, Bridon Ltd.
1995—Peter Wilcock Director, KTS Wire Ind. Ltd.
1996—David Young Director, Tinsley Wire Ltd.
1997—Terence Cahill Director, Somerset Wire Ltd.
1998—Peter J. Rigby Director, Handy & Harman (Europe) Ltd.
1999—Peter R. Siddall Chairman, Siddall & Hilton Ltd.
2000—Nigel Lane Director, Cold Drawn Products.
2001—Kenneth J. Scott Director, Holton Machinery Ltd.
2002—Alan Stephenson General Manager, Bridon International Ltd.
2003—Stephen Rutherford, The Bridon Group
2004—David Thorpe, Unsco Ltd.
2005—Mark Hayes, Institute of Spring Technology
2008—David Michael (Sandy) Saunders, Worshipful Company of Tin Plate Workers
2009—John Perry, Worshipful Company of Tin Plate Workers
2010—Kate Kendall Siddall
2011—Commander Chris Groves, Royal Navy
2012—John Swain, Siddall & Hilton Ltd.
2013—Jonathan Rigby, Fox Wire Ltd.
2014—Robert Bache, Bacher Pallets Ltd.
2015—John Scott, Accent Wire
2016—John Churchfield, Bridon International, Ltd.
2017—Marc Turner, Wintwire Ltd.
2018—Laurence Mutkin, Worshipful Company of Tin Plate Workers
2019—Lindsay Millington, Worshipful Company of Tin Plate Workers